Registering:
Anyone who wishes to bid at a Kodner Galleries auction must first register at the office and obtain a bidding card. Registration is easy. Simply give your name, current mailing address, phone number, and tax exemption number (if you have one) at the front desk and receive your official bidding card in return. In most cases, you will keep the same bidding card number in future auctions. Additionally, you can also register on our web site to bid live on our online auctions. Simply click the "Register" button located in the top right corner of our home page. You may also register for online bidding through Live Auctioneers, Invaluable, and The Saleroom. The links to those bidding platforms are embedded in the logos for each website, which can be found on our home page.


Standard Audience Bid:
Unlike in the movies or on television, bidding at auction is not as subtle as lifting an eyebrow or adjusting a tie. All potential bidders must first register and obtain an official bidding card (see registering above). With this bidding card you can bid on any piece you desire by simply raising the card to a position that is visible to the auctioneer. The auctioneer will then acknowledge your bid by either pointing to you or through a short statement such as "I have $500 from the woman in the front row do I hear $550." However, if your bid is not recognized by the auctioneer you should either display your card more prominently or verbally call out a bid. For example, if the auctioneer asks "I have $500 in the front, do I have $550 anywhere?" and if for some reason he cannot see your bidding card it is acceptable to call out "$550" or any other meaningful declaration. When your bid has been recognized you can continue to bid on the lot by keeping your card raised or by redisplaying your card once a higher bid has been obtained. At the conclusion of the bidding the Auctioneer will call out the lot number, selling price and the bidder number of the buyer. For example, he might conclude the bidding by saying "lot 110 goes to bidder number 45 for $600."

Suggestions:
Attend the preview. Inspect the item and ask questions. Observe the condition that each piece is in.

Pre-select the items you wish to bid on. Most items are on the auctioneer's block for only a couple of minutes. For most people this is not enough time to decide whether or not to buy the lot.

Know how much you want to pay for an item. Prices at auction move quickly. The best way to avoid overpaying is to decide how much money you are willing to spend before a lot reaches the auctioneer's block. In addition, always remember that every lot is subject to a 21% buyers premium and a local sales tax (6% in FL), unless bidding from out of state. Therefore, if you win a lot on a $100 bid you really must pay $118. Bidders who place their bids online are subject to an additional 3% buyers premium. This additional fee is due to costs associated with hosting auctions online and is not charged by Kodner Galleries directly. Therefore, a winning bid of $100 is actually $121, including buyers premium.

Know the lot number of the pieces you are interested in. Perhaps one of the most common mistakes that bidders make is failing to bid on a piece they like because they did not know when it was going to be offered. The simplest way to avoid this error is to keep track of the current lot number and the lot number(s) of the piece or pieces that you like. Our auctions are run sequentially so it is fairly easy to anticipate when a lot will be offered once you know its lot number. In addition, we suggest that you return to your seat and be prepared to bid at least five lots ahead of the lot you are interested in.

As is:
Refers to the condition of the item. Bidders have a preview period well before the auction to view the condition of each piece. Bidders may also briefly interrupt the auction to further examine the piece before their final bid. This is why "as is" means that the final bidder is buying the item with any wear, break, defects, faults or imperfections. Clocks and other mechanical devices are not guaranteed.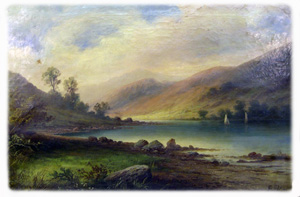 Reserve:
This refers to a fixed dollar amount that an item cannot be sold under. Reserves can be left by the gallery or by a customer leaving the piece on consignment. (see consignment below.) Some items are offered for sale subject to confidential reserve. Most often there is no fixed amount on an item hence the term "No Reserve."

Consignment:
Kodner Galleries accepts items from customers to be put in our auctions for a modest percentage of the final sale price. The item can either be left with or without a reserve. (see reserve above)

Left Bids / Absentee Bids:
A flat bid left by someone unable to attend a given auction. To leave a left bid simply call or visit the Gallery before the auction and we will take your name, phone number, current mailing address, tax exemption number (if you have one) and dollar amount bid for each lot that you wish to bid on. These bids are then competitively bid into the auction. That is, we start the bidding as if there were no prior bids and bid on your behalf until other bids exceed your bid or there are no other competing bidders. Therefore, it is very common for absentee bidders to win lots for less than their set bid. As a courtesy we also offer "plus one" left bids which will bid one increment above the amount given in the left bid. This prevents a member of the audience from buying a lot for exactly the amount of a left bid. For example, suppose you leave a $100 left bid on a painting and our bidder bids $90 for you and an audience member responds by bidding $100, at this point the "plus one" left bid gives you the opportunity to bid $105 and hopefully win the painting against the bid from the audience member. Please remember that left bids are subject to both a buyer's premium and local sales tax. These charges are added to the winning bid and explained in above the statement of a "left bid." Therefore a successful left bid of $100, with a "plus one" bid factored in, would result in a final sale of $105 and total purchase price of $123.90.